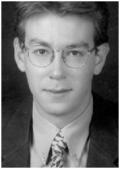 Τίτλοι σπουδών:
Diploma of Architecture and Engineering (2000)
Diploma of Fine Arts: Painting (2009)
Postgraduate Diploma (M. Sc.): Architecture: Design of Space. Course A: "Design – Space – Culture" (2001)
Doctoral Diploma (Ph. D.): Theory and Philosophy of Architecture (2005)
Ερευνητικά Ενδιαφέροντα:
Conceptual History of Architectural Ideas, Philosophy of Architecture, Concepts and Theories of Space, Relations Between Architecture and Art, Architecture as Art
Courses
During the current academic year, this person is a tutor in the following courses:
Undergraduate Courses
5th Semester

6th Semester

7th Semester

8th Semester
Postgraduate Programme "Architecture - Spatial Design" - Division A: "Architectural Design - Space - Culture"