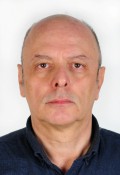 Τίτλοι σπουδών:
QUALIFICATION
2018, Postgraduate Certificate in Higher Education (PGCHE), University of Nottingham
1992, Master of Architecture in the Urban Landscape, University of Southern California, Los Angeles, CA
1989, Diploma in Architectural Engineering (5 yr. with thesis requirement), National Technical University of Athens (NTUA), Greece
OTHER TRAINING
2012, Certificate of official training of Buildings Energy Auditors in Greece, Technical Chamber of Greece, Institute for Professional Education (ΙΕΚΕΜ ΤΕΕ), Greece.
2005, Professional Training Certificate "Energy & Environmental Design of Buildings" (2nd semester of the MSc in Renewable Energy of the EU Renewable Energy Centre - EUREC) organized by the National University of Athens Professional Training Centre, Athens, Greece
1997, Certificate in Project Management, Hellenic centre for productivity, Athens, Greece
1996, Advanced Training in Passive & Natural Cooling Techniques & Systems for Energy Conservation, ΕΚΠΑ, Αστεροσκοπείο Αθηνών, EU/ DGxii, Αθήνα.
PROFESSIONAL QUALIFICATION - MEMBERSHIP
Fellow of the Higher Education Academy (FHEA), PR102838, United Kingdom 2015
Registered Building Energy Auditor, Hellenic Ministry of Environment (2010 to 2013)
Registered Architect-Designer of Public Buildings, Hellenic Ministry of Public Works, (2000 - 2013)
Member of the Fulbright Scholars Association of Athens, Greece since 1990
Member of the Technical Chamber of Greece (TEE), Licenced Architect in Greece since 1990
Ερευνητικά Ενδιαφέροντα:
RESEARCH INTERESTS
Structure and form in architecture
Integration of technology in architectural form
Double skin facades
Architectural Education
PUBLICATIONS
Jing, R., & Kostopoulos, K. (2015). Architectural evaluation of historic sites through site surveys in Ningbo China. Proceedings of the 8th FARU International Conference 'Making built environments responsive' (pp. 143-156). Colombo: Faculty of Architecture, University of Moratuwa.
Lianos, Ν., Kostopoulos, Κ. (2007). Double Skin Facade & their Influence on the Form of Contemporary Buildings, Transparency & Architecture: Changing, proceedings of, pages 81-86, Editions Ziti, Thessalonica 2007.
PUBLICATION OF ARCHITECTURAL WORK / REFERENCES
Publication of Architectural Work at the Web-site of KTIRIO magazine (2010) http://www.ktirio.gr/default.aspx?action=showarchitects&catid=147&archid=8
"Pure Volumes", Super Deco Tachydromos (ΤΑ ΝΕΑ, 2008.12.06), pp. 64-69. Publication of one Family Residence at Penteli (no.2)
"At the Foothills of Penteli" Ελληνικά Σπίτια (Greek Houses), Special Edition of Newspaper ΤΑ ΝΕΑ (2007), pp. 44-51. Publication of a One Family Residence at Penteli, Athens Greece
A. Kyfiotis, "At the Foothills of Penteli", Ταχυδρόμος (Tachydromos Magazine), V. 346, (2006), pp. 64-67. Publication of a One Family Residence at Penteli, Athens Greece
"Design Philosophy of Multi-Purpose Automobile Show-Rooms", The World of Buildings, architecture & construction magazine, V.18 (1998), pp.100-106
K. Kostopoulos, K. Vrettou, D. Biris, E. Zacharopoulos, "Commended Architects – 50A", Zephyr – European Passive Cooling Architectural Ideas Competition, Energy Research Group, University College Dublin (1995) p. 43
P. Koulermos, M. Gangi, S. Papadopoulos, C. Costopoulos, "Greek Pavilion", Biennale di Venezia V Mostra Internationale di Architettura, Electa (ed.), Milano (1991), p.128.
Quoted in Panos Koulermos' Monograph: "Greek Pavilion, Venice Biennale, 1991", Architectural Monographs No 35: Panos Koulermos, Academy Editions (ed.), London (1994), pp.130-135
"Hybrid (Multi-Purpose) Building at Alexandra's Avenue", Architecture in Greece Magazine (Αρχιτεκτονικά Θέματα), V. 25 (1991), p.47; Publication of Thesis Project at the School of Architecture NTUA, Κ. Advisors: Professors K. Dekavallas, A. Biris.
"Boeotia Prefecture Headquarters & Office Building", Architecture in Greece Magazine (Αρχιτεκτονικά Θέματα), V.23 (1989), p.185; Publication of first place prize at Pan-Hellenic Architectural Competition
"Faliron City Hall & Civic Centre" Architecture in Greece Magazine (Αρχιτεκτονικά Θέματα), V. 21 (1987), p.58; Publication of the fourth place prize at Pan-Hellenic Architectural Competition
Professional Experience
2013 – Present University of Nottingham, Course Director BEng ArchitectureRIBA Part I - Assistant Professor, Ningbo, China
2010 – 2013 Building Energy Auditor, Athens, Greece
2010 – 2013 University of Patras, Adjunct Senior Lecturer, Patrai, Greece
2008 – 2010 J/V ATP GmBH - DIMAND SA, Site Supervision, Thessaloniki, Greece
2007 – 2008 DIMAND SA Real Estate Development, Project Manager, Thessaloniki
2006 spring National Technical University of Athens, Part-time Adjunct Faculty, Athens
2003 – 2012 Democritus University of Thrace (DUTH), Adjunct Faculty, Xanthi, Greece
2003 – 2013 Owner of Architectural Practice, Athens, Greece
2001 – 2004 Jacobs GIBB, Technical Consultant to the ATHOC 2004 Summer Olympics, Venues Overlay Designer & Site Supervisor, Athens, Greece
2001 LMN - Athens International Airport, Project Manager, Athens, Greece
1997 – 2001 HOCHTIEF International - New Athens International Airport, Resident Architect -Coordinator, Athens, Greece
1994 – 1997 A. Samaras & Associates Architects & Planners, Project Architect, Athens, Greece
1992 – 1993 Hellenic Air Forces, Compulsory military service, AF Sargent - Building Maintenance, Greece
1987 – 1990 Prefecture Headquarters Building, Prefecture of Boeotia Architectural Competition Project Team, Architect - Junior Partner, Athens, Greece
1985 – 1987 Intern in major architectural practices in Athens, Greece
Teaching Roles and Experience
2013 – Present Assistant Professor in Architectural Structures and Construction
2010 – 2013 Adjunct Lecturer, U.o.Patras,
2010 – 2011 Adjunct Lecturer, DUTH: Documentation and preservation
2006 spring Adjunct Senior Lecturer, NTUA: Integrated Design Studio
2005 – 2012 Adjunct Senior Lecturer, DUTH: Tectonics, Design Studio
2003 – 2005 Adjunct Lecturer, DUTH, Specialist Area: Tectonics, Building Technology
1990 – 1991 Teaching Assistant, University of Southern California, 1st year Design Studio
Key Teaching-Related Administration Roles and Experience
2015 – 2018 Course Director in Architecture
2013 – 2018 Module leader in design studio and tectonics
2003 – 2013 Unit leader in tectonics/ building technology and design studio
Courses
During the current academic year, this person is a tutor in the following courses:
Undergraduate Courses
3rd Semester

4th Semester

5th Semester

7th Semester

8th Semester